Music in Black & White
The Year of the Monks
part 4

After the recording sessions finished, the group returned to the touring treadmill. They were elated at the prospect of their album being released. The Monks played with unparalleled ferocity, stalking the stage like five exterminating angels whilst laying down carpets of aural napalm.
One of the original songs they performed live didn't make it onto the album. Fortunately, it appears as one of the bonus tracks on the CD reissue, obtained from a German television appearance. "Monk Chant" is just what the name suggests. The Yardbirds had already laid down a song with Gregorian chants in mid-'65 entitled "Still I'm Sad." Of course, that famed quintet usually did everything first. The Yardbirds' take on vespers was very, well, monkish, like frost on stained glass. On the fade, someone even whispers "amen."
That would never do for the Monks, though. Johnston's drumming is blood curdling, tapping horrible memories from Jung's collective unconscious. The Monks moan eerily, raising hackles on the neck. Burger mutters incantations, calling on some forgotten god. Visions of human sacrifice abound. Vestal virgins struggle and scream in the hands of pagan priests. Burger sets his talismanic guitar on the floor, where it commences to issue unholy feedback. Clark and Day join him, tapping on the frets to obtain the horrific sounds of arterial fluid flowing. Actually, it's more like a gang rape. Then, there's warm and dark visions of a knife raised as Johnston's drums thud like a heart in a seer's hand.
Often, they opened for more chart-oriented British groups such as the Creation, at that time riding the German charts with "Painter Man."
"The singer painted a canvas, which he destroyed. And I remember the guitar player using a violin bow, but we just thought 'So, that's their shtick.' Everybody seemed to be trying out some gimmick to be different," Eddie Shaw said.
Dave Day also remembered playing with the Troggs, commenting specifically on their lead vocalist, Reg Presley.
"They had that hit, you know 'Wild Thing.' The singer sounds so sexy on it," Day said. "But he didn't have any stage presence. He stood there like a wet mop."
The Englishmen were totally unprepared for the pyrotechnics the Monks displayed. The Americans' act had been forged in sweaty dives throughout Germany, often six to eight hours a day every night. Consequently, they demonstrated more chops and integration, blowing the Brits out the door.
"The English bands thought they were big time. Until they heard us play," Day added.
At one show, they played with the Kinks, a band that at one time had been particular favorites of the ex-GIs. Larry Clark even used to sing the Kinks' second hit, "All Day and All of the Night" at gigs. Unfortunately, the Americans' admiration for the Brits was soon to sour slightly.
Tempers flared backstage between Dave Day and the English group's lead guitar player, Dave Davies. A fan had fought her way through security, hoping to secure a signature from her idols. The Kinks' Davies abused her verbally and she broke into tears. The Monks' Day consoled the fan, giving her an autographed photo of his band. She brightened and bustled away. Then, Day turned on the Kink.
"I told him he should treat his fans better. After all, they're the ones responsible for making a band successful" Dave Day recalled.
Dave Davies told the Yank to piss off. It's quite telling that in his autobiography, "Kink," Davies makes short shrift of the Monks. He quickly mentions their stage persona, dismissing them as "silly." He never mentions the Monks' music or his altercation with Day.
Roger Johnston was nowhere near as diplomatic as his bandmate.
"The Kinks' drummer (Mick Avory) and bass player (Peter Quaife) were nice guys," Johnston recalled. "But the Davies brothers (Ray and Dave) were arrogant pricks."
By this point, "Black Monk Time" had been released, as was a first single, "Complication." Critical reaction appeared favorable. European magazines compared their album to LPs by the Cream and the Lovin' Spoonful. Despite the non-stop touring, these laudatory raves buoyed the band's morale to a certain degree. The Monks' notoriety didn't translate into chart action, however. Sales proved minimal. Consequently, the riches weren't pouring in as they had envisioned. Their first royalty checks worked out to about ten dollars per person.
One night the group played a show with the legendary Bill Haley and his band, the Comets. Dave Day, a rock n roll fanatic since the genre's inception, shyly introduced himself to the man..
"He was wonderful. He was a little puzzled by what we were doing," Day said. "But he said it was very interesting."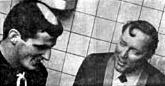 Haley seemed slightly amused at the younger man's stage persona. A picture was taken of him with Dave Day. There's a noticeable difference between Haley's trademark spit-curl and the Monk's gleaming pate.
Jimi Hendrix, then an obscure American performer based in London, was touring Germany with his English group, the Experience. Eddie Shaw noticed the black guitarist's melancholy diffidence. Hendrix, however, spent an unusual amount of time watching Gary Burger.
"He checked out how Gary used feedback. Hendrix and Gary used it differently. He also asked questions about Gary's wah-wah," Dave Day said.
Remember, that particular pedal was a relatively new effect at the time. Hendrix was soon to make it part of his aural arsenal. Hendrix also mentioned that the Monks' music was unlike anything he'd ever heard. Shaw ruefully noted that this was not necessarily a compliment.
Thinking they'd seen everything under the rock n roll sun, the Monks were impressed by Hendrix, nonetheless.
"He was one of the greatest showmen I've ever seen," Larry Clark said admiringly.
<< Back to part 3 ~ Forward to part 5 >>

All contents copyrighted by the Monks ~ Designed by the Scallywag